Alex Gow Funerals Helping Cleveland Meals On Wheels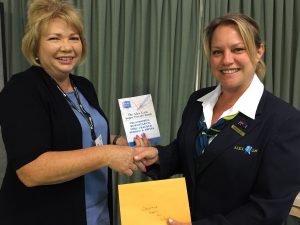 Helping Cleveland Meals on Wheels
Alex Gow Funerals Cleveland Branch Manager, Angela Hall presenting Cleveland Meals on Wheels committee member Pamela Recchi with a donation cheque.
Angela said "Alex Gow funerals care about the community and the great work that Meals on Wheels do. It is an honor to assist these valuable volunteer groups and give donations where we can".
Pamela said "On behalf of Cleveland Meals on Wheels we want to thank Alex Gow Funerals for their generous donation, it really is the only way that Meals on Wheels can keep going. The volunteers at Cleveland Meals on Wheels are so grateful".  Pamela added that the people in the community who receive our Alex Gow Super Puzzle Books [distributed through Meals On Wheels] were really enjoying them and the fun it brought to their days.
If you haven't received a copy of our current Puzzle Book, it can be downloaded free here. https://www.alexgowfunerals.com.au/puzzle-book/