Centenary Memorial Gardens Crematorium
Centenary Memorial Gardens is one of the most popular and outstanding funeral venues in Brisbane, Set on 40 acres in the greater western suburb of Sumner. In 2001 Centenary Memorial Gardens (CMG) Crematorium and Cemetery was established, and is still owned today by 3 local families and has become a very popular choice for funeral services, serving families of both Ipswich & Brisbane areas. Those who live locally to the Crematorium sometimes refer to CMG as the Sumner Crematorium, Centenary Crematorium or Wacol Crematorium.
If you'd like to know more about funerals and cremations at this location, please don't hesitate to call us on (07) 3851 7800.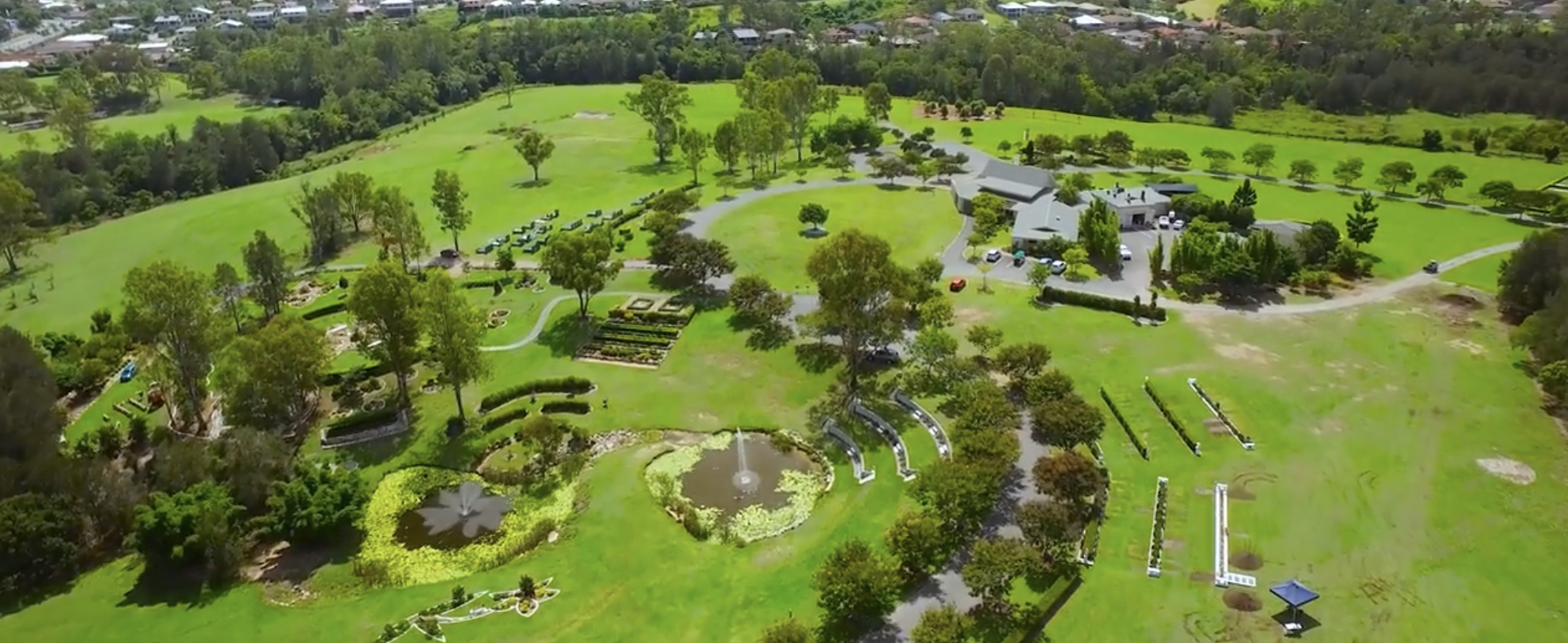 A simple cremation service at Centenary Memorial Gardens starts from $6917.00
Federation Chapel



The Federation Chapel is the centre piece of Centenary Memorial Gardens and is one of the most modern in Brisbane. It takes in sweeping views across the landscaped grounds and out to the surrounding hills. The chapel seats up to 120 guests in air-conditioned comfort. If required, glass doors at the side of the chapel can be re-arranged to accommodate standing room for an additional 200 people. The Federation Chapel offers the latest Audio-Visual equipment and offers the provision for guests to play CDs or DVD presentations on our large LED screens. Funeral services in the chapel start every hour and a half between 9.00am and 3.00pm. e.g. 9:00am, 10:30pm 12:00pm etc, and generally run for 20 to 30 minutes duration. If you are requiring a longer service time you can book a second chapel time for a small fee.
Garden Chapel

Centenary Memorial Gardens have created a very special outdoor Garden Chapel, it is nestled between the Father's Forest and the Forest of Angels and provides views of the surrounding hills and bushland. Kangaroos and other native wildlife are never far away. A sound system and shade are provided.
When the Garden Chapel is booked, we also reserve the Federation Chapel, in the event of rain or unsuitable weather conditions.
For those who are having a burial in the Centenary Memorial Gardens Cemetery, both chapels are available to use for a pre-burial service.
Refreshment Lounge






Following your service, you may like to invite your guests to join you in the Refreshment Lounge which is a short stroll from the Federation Chapel and protected from the elements by an undercover walkway.
The airconditioned Refreshment Lounge can accommodate large or intimate gatherings. The menus are designed to provide variety, freshness and flavour.
Menus can also be customised to meet special cultural and dietary requirements. They can further personalise your catering by baking a favourite family recipe (pricing available upon request).
Complete Care Funeral
Many of our families choose the Complete Care option which includes the following:
Meet with you to arrange funeral details in comfort of your own home or in our office.*
Prepare and lodge all necessary cremation documentation.
Registration of the death with Births, Deaths & Marriages.
Your loved one transferred into our care.*
Fully trained mortuary personnel to prepare and dress your loved one.
Attend to the cremation and all necessary charges at Centenary Crematorium.
Use of Federation Chapel and multimedia equipment for one allotted time slot. *
Supply our standard size Polished Teak "Burke" coffin, fully lined.
Opportunity for a private viewing at Centenary Crematorium or Alex Gow Chapel.
Arrange for a ceremony to be held, provide professional staff to ensure all needs are met.
Supply of our "Everlasting Memories" Signature book for recording names of those who attend.
Supply of a 40 x 50 cm Canvas print of your loved one to display at the service, yours to keep.
Trained Funeral staff available at all hours for support and advice.
No Surcharge when funeral payment made by credit card. (We accept Mastercard or Visa Only)
* between 8.30am to 4.30pm Mon – Fri excluding public holidays.
Included options
Arrange a celebrant or clergy to officiate at the funeral service. (up to $440)
Provide a Certified Copy of Death Certificate for Estate purposes.
Provide a spray of bright seasonal flowers to place on the coffin. ($275 Value)
30 Professionally designed and printed order of service sheets. (4 Pages @ A5)
Create and provide 1 copy of our professional audio visual tribute – "Reflections of a life" to be
played at the funeral service. (Family to provide us with 25 photos and 1 song)
This Complete Care option as listed is $8047.00.
Please Note: while catering is available at CMG, it has not been included in this price estimate as it may not be available at certain times due to COVID 19 restrictions.
All prices on this website current until 30/06/2022
---
Alex Gow Funerals understand that every person is unique and therefore you can make your funeral service more personal by adding to or removing some of these included options.
---
Important Information: The crematoriums postal address is 353 Wacol Station Road, Sumner, but the entry to Centenary Memorial Gardens Crematorium and Cemetery is around the corner in Wolston Road.
---
More information on Centenary Memorial Gardens can be found on their web site.
---
Alex Gow Funerals can arrange for funeral services to be held at cemeteries and crematoriums in the Brisbane, Greater Brisbane and Moreton Bay areas. With more than a century of experience providing funeral services in these areas, we have come to know the facilities and services of many crematoriums and cemeteries. If you'd like to know more about any site, please don't hesitate to call us on (07) 3851 7800.
---