What to Wear to a Funeral
When someone that you know has passed away, the last thing you want to think about is what to wear to their funeral. This is especially true when you're busy dealing with funeral planning services. However, what you wear is important in terms of funeral etiquette. Think of it in similar terms to an outfit you might wear if you were being interviewed for a job or going to a business meeting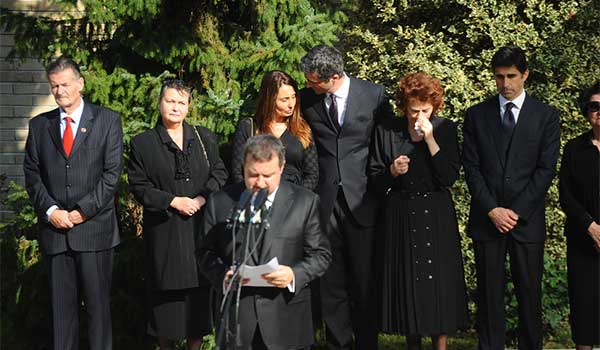 However, there are a few other factors to determine what you should be wearing.
What Men Should Wear

The standard clean, pressed and tucked in suit will go a long way. Traditionally, black is the most appropriate colour for most ceremonies. Men should never wear jeans, caps, runners/trainers or short-sleeved shirts. Polished and un-scuffed dress shoes or loafers with a good shirt and perhaps a jacket is best, but make sure you check the weather before you wear a jacket. If you are a pallbearer, definitely wear a suit or dark sports coat and tie.
What Women Should Wear
Women should avoid any outfits that are revealing or flashy, too casual or overly festive. Of course, black is also appropriate to wear for women. Some good outfits for a woman to wear would be a skirt or pant suit, with a nice blouse. Women in many cultures choose to wear hats or veils to funerals, as well.
Some people believe that a splash of colour can help to celebrate a person's life  while you mourn their death. While you shouldn't wear anything too outlandish, a subtle red or pale blue scarf may be a welcome and tasteful accessory for the day.
Religious Ceremonies
Many religions hold different traditions on what people should wear to funeral ceremonies.
For example, in Jewish culture, it is standard for you to either rip your clothing or wear a piece of ripped fabric pinned to your clothing in order to demonstrate your grief.
For Quaker and Buddhist ceremonies, the mourners should wear white. In Buddhist tradition, the colour of death is white, not black, which is why people should only wear white to a ceremony.
If you aren't sure about a particular traditional, make sure you speak with your funeral director or someone close to the family for more information and guidance. Just make sure that you don't overbear the people who are closest to the deceased.
As well as religious traditions, make sure that you consider any personal requests that the family and friends of the deceased have made. For example, they may have chosen a meaningful colour theme or requested that nobody wears black.
Alex Gow Funerals has been helping families throughout Queensland create meaningful tributes to their loved ones since 1840. If you require assistance with funeral arrangements, please do not hesitate to contact us or call our Brisbane head office on 07 3073 4816. We also have an online pre-arrangement form you can fill out.