2017 Aged & Palliative Care Bursary Winner Announced
It is with great pleasure that we announce that the winner of our most-recent $2000 bursary for study into Aged and Palliative Care is Vanessa Muir.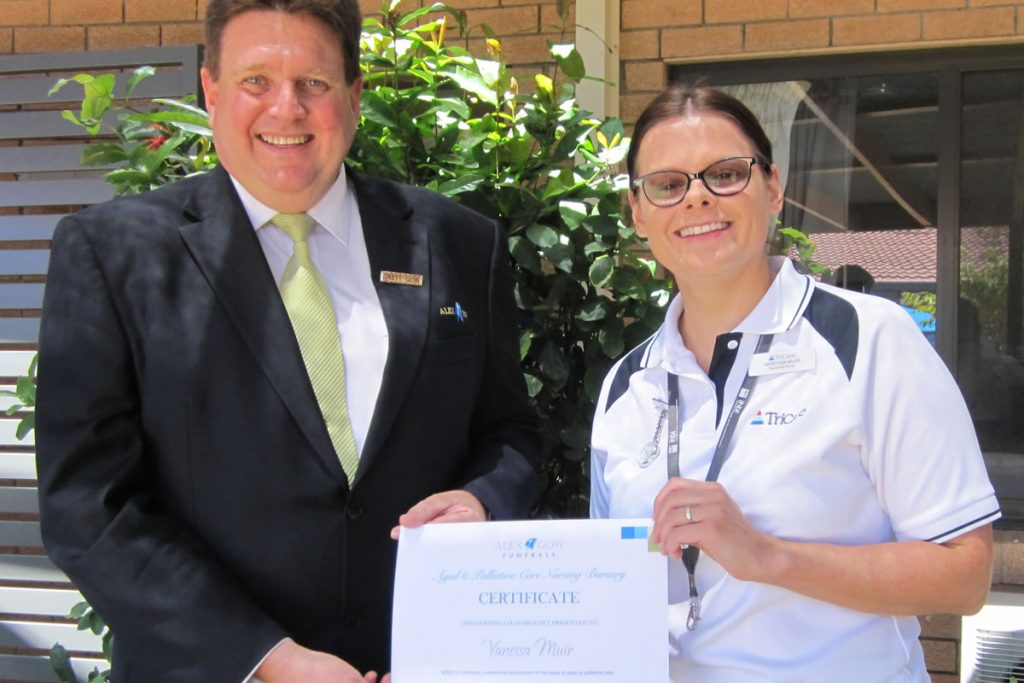 Vanessa is a Registered Nurse who works at Tri Care's Mount Gravatt Aged Care Facility.  She has been working in the aged care sector in both community and residential aged care for about 7 years now and holds a Bachelor of Nursing from QUT. "I knew well before I graduated that I wanted to specialise in palliative care.  I discovered that this was my niche when providing palliative care as an Assistant in Nursing.  I find this area of nursing to be fascinating and highly rewarding.  It is an honour and a privilege to be present with those (and the families of those) who are in the final stages and hours of their lives".
Vanessa is also studying a Graduate Certificate in Palliative Care and is hoping to continue to complete her Graduate Diploma and then Masters in Palliative Care.
"The Alex Gow Funerals bursary will be a great help towards my ongoing studies. It is my dream to become a Nurse Practitioner in Palliative Care.
Vanessa was presented with her bursary by Alex Gow's Managing Director, Brett Gow, who said she was a very worthy recipient.
Alex Gow Funerals bursaries will continue in 2018 to assist those working in Aged and Palliative Care in either nursing or Grief & Loss Support.