How to Deal with Grief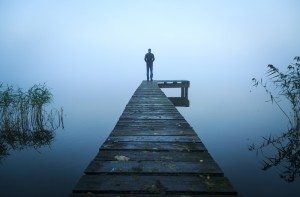 When we lose a loved one, it is inevitable that our own life will be forever changed. Navigating your way through grief and mourning is a challenging but necessary process. We are often not taught the difference between grief and mourning. Grief encapsulates your thoughts and feelings about the loss, while mourning is how you express and process this loss. Recognising this distinction can help make the transition through grief a little easier to manage. Everyone's healing journey will be an intensely personal one, but there are common threads shared by all people. By sharing this article, our funeral directors seek to shed some light on the fundamental signposts of the mourning process.
Acknowledging the Loss
Both unexpected and anticipated losses present their own emotional challenges. Either way, it may take weeks or months to acknowledge the reality that your loved one is no longer physically present. It may feel as though you are replaying the events surrounding the death many times over. This is very normal and may require your attention for some time before the loss seems real.
Embracing the Pain
Sometimes it is easier to push away the pain of a loss rather than confront it. However, by embracing difficult and painful feelings we can eventually learn to reconcile them. There is no need to rush or force this process. Allow yourself to be distracted at times. This will give you the strength and energy you need to process the hurt in smaller doses. Just remember that it is okay to not always wear your 'brave face'.
Remembering Your Loved One
Some people may think it is helpful to hide photos or other objects signifying your relationship with the deceased. It is important to reflect upon, not remove, these precious ties with a person you care about. Your relationship with them does not need to end; it will live on in memory as you move towards the future.
Redefining Your Identity
Our self-identities are partly defined by our relationships with other people. When a loved one dies, your identity will naturally shift in response to the loss. You may need to fill roles opened up by the loss, which can seem exhausting at first. However, you may also learn positive things about yourself along the way like compassion, confidence and so on.
Finding Meaning
The death of a loved one can leave you questioning the meaning and purpose of life. You may feel powerless, empty, lonely and even doubt your own faith or spirituality. Know that these feelings are normal and that in time you will make peace with the conflicting thoughts running through your head.
Accepting Support
Although there are many aspects of grief that you must face by yourself, the path to healing is one that you should never walk alone. A strong support network of friends and counsellors will greatly increase your capacity for healing. Surround yourself with people who recognise the weight of the loss and allow you a safe space to mourn.
The most important thing to remember is to be gentle, patient and compassionate to yourself as you move through each stage.