The Difference Between Crematoriums and Cemeteries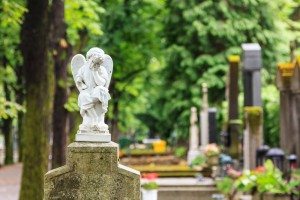 Following the passing of a much loved family member or close friend there are many details which the bereaved will need to attend to.
In the absence of a will or any religious obligations, the choice between cremation or burial is quite often left up to the surviving family members or friends of the deceased.
However, deciding which option would be best may not be as straightforward as it may seem. There can be a range of factors to consider when making a decision on an appropriate method.
In the following article we have detailed some of the main reasons why people may choose a cremation or opt for a burial when planning a funeral. We sincerely hope that the information provided will make the choice easier for you and your family when the time comes to say goodbye to a loved one.
Why Choose to be Cremated?
Cremation has been practised by many cultures throughout the world since ancient times. Put simply, it is the method of disposing of a body by means of fire. This method leaves only ashes as remains, which can then be scattered or placed in a vault at a crematorium.
Cremation is becoming a popular choice for many Australians as it can be a significantly cheaper option than burial. A funeral service for the deceased is held as normal with the remains being presented to the family or friends afterwards.
There can be religious grounds that either necessitate or disallow cremation, so it is best to make sure of any obligations or wishes the deceased may have had.
Why Choose to be Buried?
Burial is a traditional choice and still the most popular method of laying a loved one to rest. Many religions insist upon a burial instead of cremation so it is vital to be sure what the deceased person's wishes may have been.
Mourners often opt for a burial service as this means that their dearly departed will occupy a grave where family and friends can visit to pay their respects. For many people, the symbolism of a gravesite as a revered place of remembrance is of great significance.
Families may also choose to have joint tombs where they can rest together for eternity. However, burial can be a more expensive choice so it is wise to consider your budget before making a decision.
Local Cemeteries and Crematoriums
Choosing an appropriate final resting place for your dearly departed is a big decision. There are many beautiful and serene cemeteries and crematoriums throughout the Brisbane, Greater Brisbane and Moreton Bay areas.
Crematoriums include the Great Northern Garden of Remembrance, Centenary Memorial Gardens and Pinnaroo Crematorium.
Cemeteries include Mt Gravatt Cemetery, Hemmant Cemetery and the historic Bald Hills Cemetery. This is just a small selection of the many wonderful places of remembrance that exist.
With an in-depth knowledge of the facilities and services provided at each location, the team at Alex Gow Funerals is in a good position to advise you. For details, please contact us today.