What's the Difference Between a Coffin and a Casket?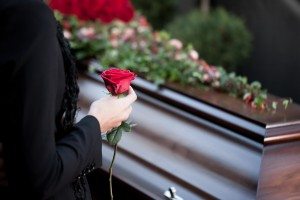 When we refer to a coffin, the image that comes to mind is actually likely to be a casket. The difference between caskets and coffins is subtle, but marked. They vary in dimensions, styles and price range, with caskets often costing more than coffins.
Dimensions
The shape and dimension of coffins and caskets are the greatest points of difference between them. Although it seems like a small difference, the slight variation in shape does have bearing on the style of the case and how it reflects the deceased's tastes and those of the family.
The shape of a coffin is designed to fit around the human body: it is widest at the shoulders and tapers in towards the head and even more so at the feet. This is an older style of entombment and usually has a lift-off lid, as opposed to a hinged lid.
A casket, by contrast, is usually rectangular in shape and has a hinged lid. Caskets are usually made from a more robust wood, making them bulkier than coffins.
Style
Caskets are often made from high quality timber or metal and feature a high standard of workmanship. They might have metal fittings and can be made from solid hardwood if desired. Normally, they are lined with satin or another fabric of your choice. Bar handles run along the sides of the casket, where coffins generally have smaller handles. Caskets are often chosen for their visual appeal.
Coffins are generally made from composite timber, fibreboard or cardboard. They can feature bar handles, but smaller handles (or no handles at all) are the norm. In most cases they come with a satin-lined interior as standard.
There is always the option of personalising the coffin, with a huge range of custom designs available. Styles range from traditional to contemporary to themed to design-your-own coffin. At Alex Gow Funerals we stock traditional style coffins and caskets as well as a wide range of custom made caskets and coffins. Our clients in Brisbane can choose from:
Traditional coffins and caskets
Contemporary coffins– with a choice of art print designs
R.L and sports range coffins – with a choice of prints including N.R.L team colours and logos, sailing, surfing, horse racing, fishing and AFL designs
Design-your-own coffin – with patterns, images, photographs or a collage of your own design
Price
Because caskets are made usually from higher quality materials and are often handmade, they do generally incur a larger cost than the more affordable coffin.
That being said, it is possible to purchase a low-cost casket. Inversely, some custom made coffin designs can end up being more expensive than a basic casket. It all depends on the design chosen and whether it is customised.
If you're looking for a quote on basic or custom made caskets and coffins, get in touch with the friendly team at Alex Gow Funerals by calling (07) 3073 4817.
Alex Gow Funerals Coffins and Caskets
Choosing the Coffin or Casket
What is the difference between a Coffin and a Casket? The difference is basically one of design.
| | | |
| --- | --- | --- |
| Coffins are widest at the shoulders and taper in at the head and the foot so the coffin mirrors the form of the human body. The lid is not hinged and is removed altogether. | | Caskets are rectangular in shape with a hinged lid and are usually constructed of better quality timbers and feature higher standards of workmanship. |
Choosing a coffin is a very personal decision. The chosen coffin often reflects the personality of our loved one and the unique life they have lived.
Alex Gow Funerals offers a range of Coffins and Caskets to suit most people's styles and budget, and all are made in Australia by 100% Australian owned companies. The prices for the coffins shown here start at $1898 for a simple, very presentable timber look veneered MDF coffin (Burke) and move up to $6030 for a solid timber hand constructed casket. (Phillip)
Traditional Coffins and Caskets

Contempory Coffins
N.R.L. and Other Sports Range
Personalising a Coffin or Casket
If you wish you may personalise the coffin. Here are ideas others have used.
Colour the coffin a favourite colour
Apply significant stickers or adornments
Choose a special fabric interior
Invite friends to sign the coffin at the ceremony
Design Your Own Expression coffin
Please click here to visit the complete website.
Designer Coffin Interiors
All of our coffins come lined with high quality fabric from Hyqual Australia as standard.
The Contemporary Co-ordinate collection below features custom casket and coffin interior sets made from beautiful contemporary fabrics. They come in a range of chenille with textured jacquard, striking faux leather or two-tone sateen. These are a break away from the traditional range of coffin and casket drapery and give families a modern choice when making funeral arrangements.
The designs below are just a sample of available designs. For more options, contact our Brisbane office on (07) 3851 7800. Please note that as this is a modern collection, fabrics may be updated frequently.
Contemporary Co-Ordinate Collection.
These Interior sets are made in Queensland from beautiful contemporary fabrics and come in a range of soft chenille's with textured jacquards, striking faux leather or 2 tone sateen's. These are a break away from the traditional range of coffin and casket drapery and give families a modern choice when making funeral arrangements.
Note – Colours shown may vary slightly from actual product. Fabric may change without notice due to trends.
These are just some of the fabrics available and as this is a modern collection, the fabrics are updated every few years.
If you have any questions at all on selecting a coffin or casket please feel free to talk to one of our experience staff. They will help you find or create exactly what you're looking for.