How to Choose a Funeral Director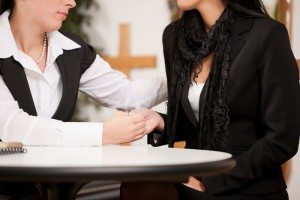 After a death occurs in the family, one of the first calls should be to your preferred Brisbane funeral director. The task of choosing a funeral director usually falls to the next of kin, but it can be carried out by anyone as long as the executor of the deceased's estate has no objection. Knowing who to choose – especially in a time of grief – can be a tough decision. It's important to choose a funeral director with whom you feel comfortable and who will ease the burden at a time when you feel the least like attending to details.
Take time to plan with your family
If you get the opportunity, we encourage you to read our Funeral Planning Guide with your family before you meet with the funeral director. Remember, this is a time to be understanding and gentle with your family – everyone processes grief in their own way. Accept each other's thoughts and try to work together to determine the best funeral plan for your loved one. It should be based on the family's wishes as well as your loved one's wishes as best as possible. We encourage you to invite all close family members – including children – to take part in the planning. This lets them know that their feelings are understood.
Meeting with the Funeral Director
Funerals are as diverse as each individual, your funeral director will listen to your wishes and work with you through the funeral planning process.
They should also be able to help you choose between a cremation and burial, help you select a cemetery or crematorium and arrange a time for the service to happen and to book the cemetery or crematorium.
The funeral director should provide a list of venues where services can be held, and will be able to suggest a minister of religion or civil celebrant to officiate at the service.
Many funeral directors in Brisbane can even provide resources for preparing tributes, writing eulogies and give tips on speaking in front of friends and family. Additionally, many can help place funeral or death notices in the local newspaper.
Our funeral arrangers will help you to make difficult decisions throughout the planning process. They will guide you – with the best interests of the deceased and the family at heart – as you work through the service arrangements and legal requirements. Please call Alex Gow Funerals on (07) 3073 4817 for funeral planning support.