Alex Gow partners with St John Qld to help seniors at home
Most people know of our commitment to helping the seniors members of our community through our various aged care centre programmes and of course, our popular puzzle books that encourage participation and brain activity, especially in your later years. These books are delivered free every quarter to nursing homes, aged care facilities and retirement villages.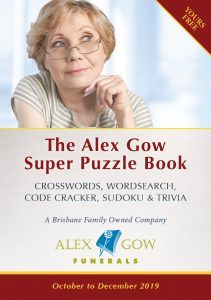 Well, we are happy to announce that in partnership with St John Qld our puzzle books will now be delivered to an additional 4,000 seniors in SE Qld through their in-home and community engagement services 'welcome packs'.

If you are not totally sure what St John do in the community, here's an overview of their great work.
Community Transport

Transport doesn't need to be a challenge. One of our main goals, with services like Community Transport, is to enable people to live independently.
Dependable and accessible transport is a great enabler to independence and a good quality of life.
The Community Transport service provides affordable assisted transport options to those who are transport disadvantaged, including Home Care Package recipients, those who are NDIS eligible, and their carers.
All Community Transport drivers are trained in First Aid, and all vehicles have First Aid kits and a defibrillator installed to cater for various medical emergencies. All staff also have a current Working with Children Check and National Criminal History Check.
Whether you need to get to the doctors or are just heading out socially – we'll get you there (and back!) with safe, affordable & assisted transport services. St John Community Transport service has no added charges for carers, partners, or family members – and we've got plenty of room for a walking frame or support equipment.
Dedicated fleet of GPS-tracked vehicles.
Service available in Brisbane North, Toowoomba, Townsville, Bundaberg, Maryborough and Hervey Bay.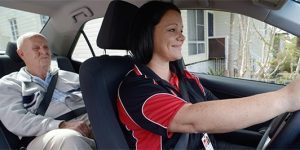 Security Calls

A scheduled phone call to check-in on your wellbeing, or the wellbeing of a loved one. If the call is not answered, we will initiate action to make sure everything is OK. Our service is ideal for people with medical conditions, people with a disability, or just people who want improved safety. It could be useful after you return home from the hospital, or while family and friends who normally check on you are away.
Available Queensland wide.
Peace of mind starts with hello.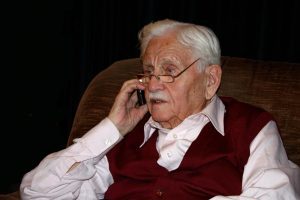 Companionship & Visitation

We understand that social interaction, companionship and friendship are essential for the wellbeing of everybody. Services available Queensland wide.

Friendship calls

Enjoy a friendly chat over the telephone with a like-minded companion

Community Visitors Scheme

Connect and spend time with a volunteer companion who will regularly visit you in your home or Aged Care facility. Visits could be for chats, games, reading or even a cup of tea.
The Community Visitors Scheme is available to recipients of Australian Gov't subsidised residential aged care services or Home Care Packages who have been identified by their aged care provider as at risk of isolation or loneliness.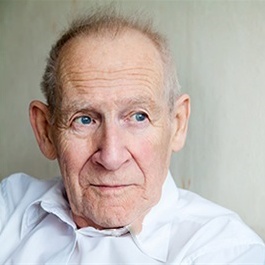 Personal Devices

St John Qld offers a range of personal devices designed to enhance your safety and wellbeing.
Falls are an unpredictable and common consequence of many medical conditions and become more of an issue as we age.

Motion detectors

Wall-mounted motion detector. If no movement is detected in your home by a time nominated by you, it will send through an alert to the monitoring centre.

Key safe

weather-resistant safe that attaches securely to a wall with a combination lock to safely store your keys (so that, in case of emergency, the door doesn't need to be broken down).

St John Medical Alarm & Pendant

24/7 monitored personal medical alarms service – help is always available.

Waterproof pendant or wrist band option for falls detector technology.

A base device with 2-way communication, operating on the 4G network.

Automatic equipment and system checks.

Australian made.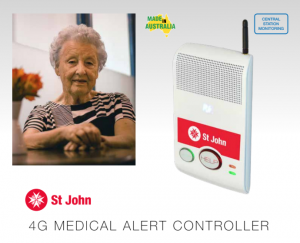 Separately, in our Education branch, we've now extended our suite of mental health courses to include more specialised options – including Mental Health for the Older Person, which could be a good option for workers or loved ones.
Mental Health First Aid Australia is a national not-for-profit organisation that develops and evaluates training programs, and trains and accredits Instructors. We offer selected MHFA courses delivered by accredited instructors.
Completing a course or workshop in mental health will build skills to help support friends, family members, colleagues – or other members of the community – developing or experiencing mental health problems or crises.
Our 12-hour Mental Health for the Older Person course is for adults working or living with older people and focuses on providing initial support to older persons (over 65). Extra information is provided on dealing with confusion and dementia in the older person.
You can find our MHFA course for the Older Person here: https://www.stjohnqld.com.au/Training/First-Aid-Courses/Mental-Health-Wellbeing/Older-Person%E2%80%99s-Mental-Health-First-Aid

If you feel you might need any the St John Qld services you can contact them on email at 
enquiries@stjohnqld.com.au
or by calling 1300 785 646.