Funerals in a time of Coronavirus
Changed Guidelines for Funeral Services and Refreshments
from July 3rd 2020
Alex Gow Funerals takes our responsibility seriously when it comes to caring for our clients, staff and the local community. Caring for their mental health is as important as their physical health. We recognise that a funeral service is an important part of the grieving process and for as long as the Federal Government will allow, we will continue to provide high-quality meaningful funerals for families during this crisis.
Guidelines have been established by our Federal and State Governments designed to help us all minimise the transmission of Coronavirus throughout our community. As of July 3rd, attendees at funerals [both internal & external] are limited to a maximum of 100 people [family members or friends] plus 3 people to conduct the service, including the priest/celebrant, funeral staff and a videographer if the service is being web-streamed.
In all cases, the social distancing regulations of 1 person per 2 square metres apply. These guidelines have greatly reduced the number of people we can seat in established venues but these changes are for your safety and must be adhered to. With our Newstead facility, we can have 50 inside the chapel itself and a further 50 in the enclosed portico adjoining the chapel area. With our Deception Bay facility, we can have 50 inside the chapel itself and a further 50 in the enclosed portico adjoining the chapel area. All other venues you may be considering (e.g. cemeteries, churches, community halls and function rooms) can be assessed for attendee numbers at the time of the arrangement. Just ask our friendly staff.
Funeral Planning
Alex Gow Funerals will continue to plan meaningful funerals with our clients We will continue to hold services at all the normal funeral venues across the greater Brisbane area, but the actual arrangement conference may now be in a different format. We are now asking families, for their protection and ours, if they would like to do the funeral planning over the phone. If they prefer still to do a face to face meeting, we ask that we can only meet with 1 family member to keep in line with the social gathering guidelines and if it can be held somewhere where we can ensure good social distancing.
Funeral Venues with live Streaming
City Central
Alex Gow Funerals chapel is located at 56 Breakfast Creek Rd, Newstead. This chapel can be used for both funeral or memorial services and is set up for complementary live streaming to the internet. After the funeral service, the recording is saved on the Funeral Suite website for up to 12 months where you can watch it and also download and save it to your own storage device.
Northside
The Great Northern Garden of Remembrance crematorium is set on 1.8 hectares of beautiful natural bushland in Deception Bay approximately 12 minutes up the highway from Carseldine. Service times in the chapel have now been spaced out which does give fewer time slots throughout the day, but this is to allow for our staff to clean the chapel and disinfect the area before the next service. This chapel is also set up to livestream funeral services to the internet as a complementary service.
Southside
Centenary Memorial Gardens is a Crematorium and Cemetery set on 40 acres in the greater western suburb of Sumner. It serves the communities of both Ipswich and South Western Brisbane. Centenary Memorial Gardens has an indoor and outdoor chapel and can live stream funeral services from their indoor chapel. As with our other chapels, there are limited time slots throughout the day to allow our staff to clean and disinfect the chapel and surrounding area ready for the next service.
Gathering for Refreshments
After funeral Catering has now been discontinued at all venues to keep in line with the new Federal Government restrictions and will not be available until further notice.
Further details
For the latest advice, information and resources on COVID-19, please visit www.health.gov.au or call the National Coronavirus Health Information Line on 1800 020 080. It operates 24 hours a day, seven days a week. If you require translating or interpreting services, call 131 450
---
Thoughts for Families
By Dr Alan Wolfelt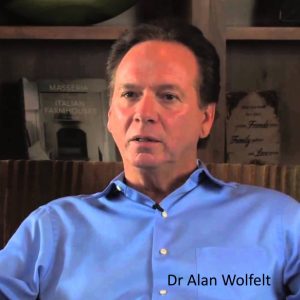 Needless to say, the coronavirus pandemic of 2020 is a challenging time for everyone. But if someone you love has died, it is likely that the current social distancing orders and travel restrictions are making funeral planning especially difficult for your family.
Losing a loved one is hard enough. Losing a loved one at a time of unprecedented upheaval and limitations may seem overwhelming. I am sorry you have been put in this position, and I hope this article will help your family find ways to meet your mourning needs and honour the person who died while making any necessary adjustments to keep everyone safe.